ATHIRAPPALLY GREEN TREES RESORTS
The Athirappally Green Trees is an attractive resort located near the 'Niagara of India', the Athirappally Waterfalls, Kerala. This resort is surrounded by lush green tropical rainforests of Sholayar.
Located in one of the most charming landscapes in the southern Indian, GREEN TREES RESORTS in Athirappally is a place where you get the first-hand experience on how to co-live with nature. A short drive from Green Trees along wide calm roads, under dense luxuriant green canopy, leads you to the breathtaking "Niagara of India" – the majestic 80 feet Athirapally waterfall, an enchanting riverine landform along the upper course of the west flowing Chalakuddy River near the Vazhachal forest division.
Those who seek accommodation at Green Trees can avail Luxury Villas or Honeymoon Villas, which all are facing the pool and have a unique architecture that is befitting of the environment around and is imbued with a sense of calmness and serenity.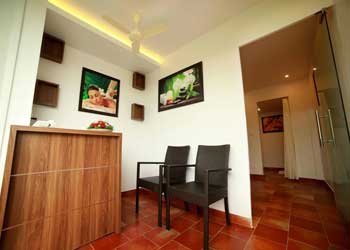 Accommodation
Athirappally Green Trees Resort offers its guest a serene and relaxing place to stay. The Resort offers 9 rooms in 2 categories namely the Luxury Villa and Honeymoon Villa. The jingle of the jungle and waterfalls around you is echoed when you stay here.
The pool facing Luxury Villas provides a very comfortable and peaceful environment for its guests. These villas are a perfect getaway from all the hustle and bustle of the city. The villas are fully furnished with basic amenities like bathrooms with modern fittings, 24 hours free internet connection and many more.
The Honeymoon Villa is specially designed for honeymooners. These villas bring out the romance and togetherness of the newly married couples as they begin the new journey of their life. The views offered by these villas is spell bounding and magical, taking the couples into a world of fantasy. A plush Jacuzzi is an added offering from these villas.
Facilities
Restaurant -offering both local and international cuisine
Fitness centre - for all those fitness freaks out there
Conference Hall -
Conference Hall - for all the Business and Personal meets
ACTIVITIES
Jungle treks
Take treks through the pristine forests of Athirappally and explore the Western Ghats. Take a view of the exotic varieties of fauna and fauna and also the majestic waterfalls of Athirappally.
Infinity pool
With the natural waterfall in the backdrop, enjoy a swim at the infinity pool in the premises of the resort and soak in the visual treat to relax your nerves.
Kids' play area
The children's area of the resort is an apt location for your little ones to have a blast of time. This area is fully under watch and guarantees complete safety of your little ones.